We have affiliate partnerships. These do not influence editorial content, though High Quality Life Style may earn a small commission for products purchased via affiliate links. For more information, see here.
If you are thinking about which is the best fitness tracker for women, then you have come to the right place. Fitbit Alta is easily one of the best fitness trackers for women in 2020.
Based on the numerous positive reviews from satisfied customers throughout the world, we think Fitbit Alta deserves a spot among the best fitness trackers for women.
Here are some of the great things that Fitbit Alta fitness tracker will provide to anyone who wants to get fit and is looking for a fitness tracker to motivate you further. Below are the top features of Fitbit Alta that you should consider before buying it.
Sleek and stylish design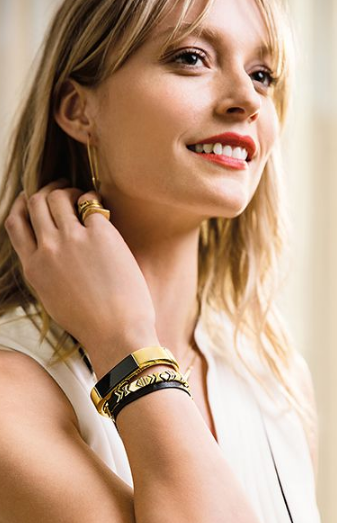 Comfortable, Sleek, Stylish, Fashionable, Polished – these are all the synonyms that you can assign to the Fitbit Alta Fitness Tracker. The Fitbit Alta has a sleek design with easy to read display. The size of this isn't as big, bulky or clunky as some of the other fitness trackers out there.
It looks extremely good on the wrist and also helps you keep in shape while you are in the office, at home or in college. It's smaller, sleeker, and the screen is one of the best you will see out there. Another great thing is that, it is comfortable to wear, and does not get that sweaty.
The sleek classy feminine look combined with the comfort factor makes Fitbit Alta easily the best fitness tracker bracelet a woman can have till date. The display of the Fitbit Alta can be adjusted in the vertical or horizontal position.
It looks great with both casual and dress clothes and you don't have to take it off even if you have to dress up.
Fitbit Alta is a Motivator
Fitbit Alta makes you feel healthy with its fitbit tracking system and gives you the boost when it rewards you for your hard work. Fitbit Alta keeps you constantly motivated and keeps you on track with your fitness goals.
You will love the step reminders and notifications that Fitbit Alta provides. For example, you can set your tracker on to motivate you to hit a goal of 10,000 steps per day. If you need motivation to move, and you love to keep track of your fitness activities, then this is the perfect fitness tracker bracelet for you.
This fitness tracker bracelet helps you to get out of your sedentary lifestyle. Most of us have an inbuilt inertia when it comes to starting exercises. Fitbit Alta workout urges you to move and be more active or stay active.
It is the perfect motivator you can have to get you moving. First time users will definitely enjoy this. You could also set reminders to help you drink more water!
Hands down, Fitbit Alta is the most stylish and motivating fitness tracker that will bring about a healthy change in your life which makes it one of the best fitness trackers for women.
Fitbit Alta has In built watch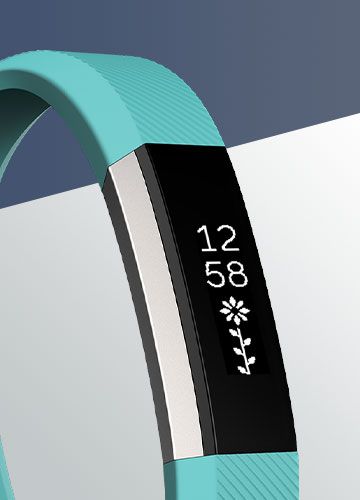 Fitbit Alta comes with an inbuilt watch as well, it gives you the date and time, so that you don't have to buy another $500 smart watch to see the time.
Fitbit Alta is lightweight and is barely noticeable that you are wearing it, especially when sleeping. Fitbit Alta is a fitness monitor and a watch, so you don't have to wear another watch.
You could buy a leather watch band to go with it as well. There are many options for other bands if you want to make it look more like a watch. This makes Fitbit Alta a lot more fashionable without having to use another watch in its place.
The Fitbit Alta looks more like a bracelet, so if you want to wear another watch with it, you can do that as well! Fitbit Alta has a modern look that goes great with any outfit that you are wearing.
Available in multiple colors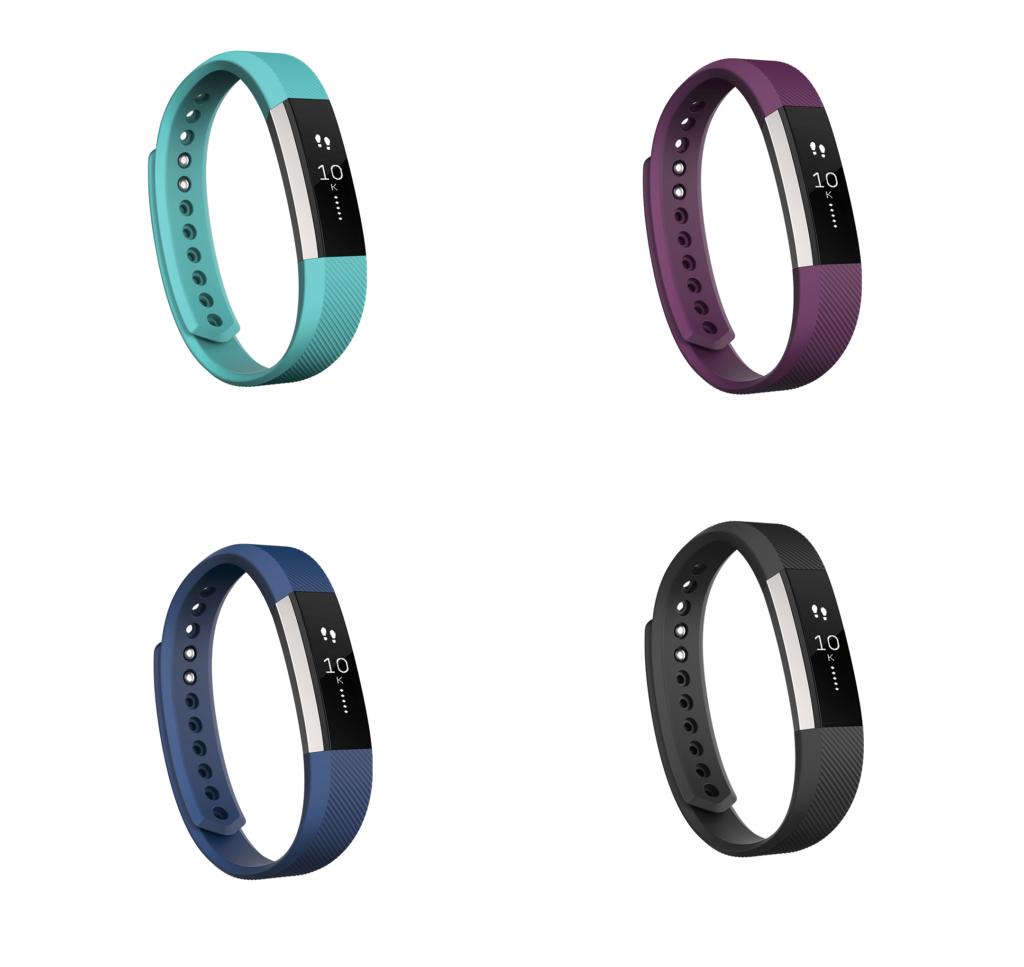 Fitbit Alta comes in many colors. The classic Fitbit Alta comes in Black, Blue, Plum and Teal colors. The Special Edition comes in Black/Gold and Pink/Gold colors.
Comes in different sizes
Fitbit Alta comes in three different sizes – Small, Large, and XL. So don't worry even if you have a very small wrist, order the small size and it will fit you like a glove.
Here are the approximate measurements for the different fitbit sizes:
Small-Fits wrists 5.5″ – 6.7″ in circumference
Large-Fits wrists 6.7″ – 8.1″ in circumference
XL-Fits wrists 8.1″ – 9.3″ in circumference
All bands are around 0.61″ wide.
Replaceable Band to create a custom look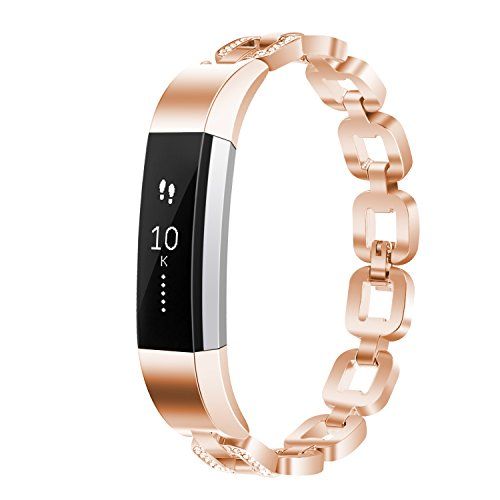 The Fitbit Alta has a replaceable band to create a custom look for any outfit. You would love the fact that you can switch out the colored band to match your outfits.
There are many replacement band/bracelet options to choose from that can be separately bought. These are relatively cheap to buy as well and you can find many great options which are less than $10 on amazon.
Fitbit Alta gives you the perfect option for dressing up or dressing down with its replacement bands. For example, you could buy a bracelet/band for formal occasions for which you would like a dressier look.
Fitbit Alta has a sleek awesome look, a beautiful thin design, is lightweight, comfortable and fashionable. You could change the bands every few days just for the colors! Fitbit Alta with its replaceable band option makes it a nice piece of functional jewelry that matches with anything you are wearing.
Silent Alarm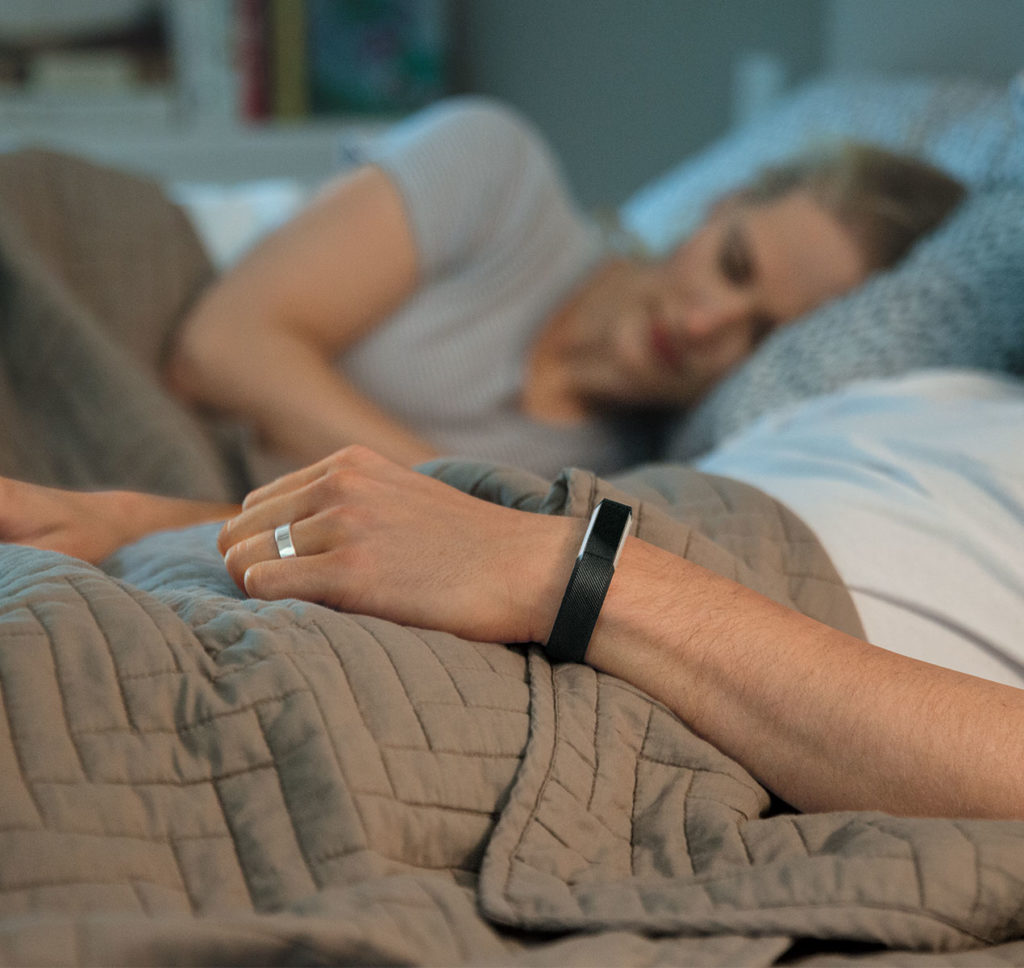 The Fitbit Alta has a silent alarm which lets you know that you need to get up and move each hour to make your hourly or daily step goals. The silent alarm is great option because it can help you to wake up early in the morning without having to wake up your significant other.
It is a great way to wake up without disturbing your family or boyfriend or roommates in the morning. If you are a student and if have early classes, this will allow you to wake up without waking up your room mates. it's more effective than those loud alarms out there.
So, set up your morning alarm so it can wake you up as a silent partner instead of your loud phone alarm. The silent alarm function vibrates to wake you up, it also alerts you if there are incoming texts or calls through your phone.
It also notifies you if you're inactive for a certain period of time. You could setup to do so many steps per hour, if not achieved, the Fitbit Alta will vibrate.
Easy to use
Fitbit Alta is very easy to take off or put on. Even though it has an aesthetic, slim, sleek style, the screen is still large enough to see who is calling and texting you. Fitbit Alta bands are easy to clean. You could clean them with a soft sponge or toothbrush and some mild soap by disconnecting the bands.
Style is definitely top notch, there are very few fitness trackers out there that look as attractive as this Fitbit Alta design. Discrete and sleek, comfortable and convenient, Fitbit Alta is a perfect choice for the women. Color availability for the bands, as well as quality material is a great feature of the Fitbit Alta.
Can track your sleep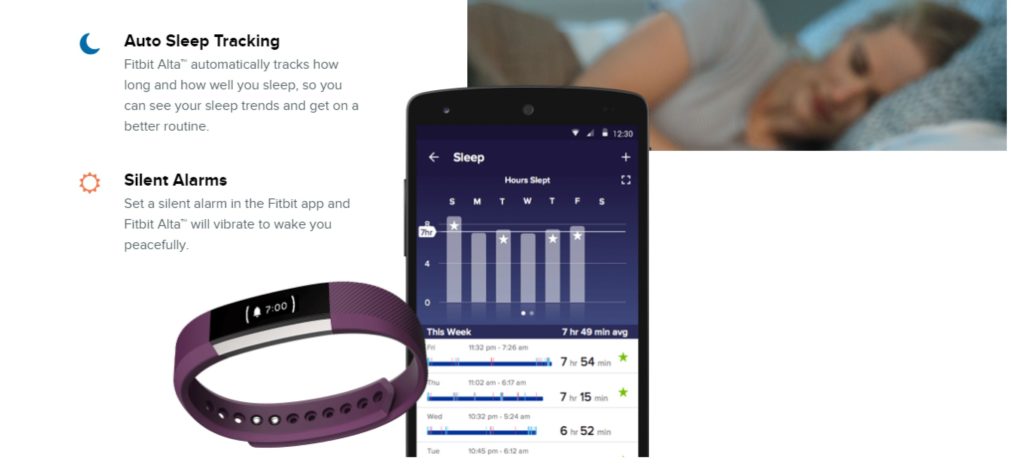 The Fitbit Alta is easy to set up with your phone and having it connected to the Bluetooth of your phone, it will help you to keep track of your sleep patterns, sleep habits. You will love to wear the Fitbit Alta to sleep so that you can see what goes on while you are sleeping. For many, this might be one of the best features of Fitbit Alta – tracking your sleep.
Fitbit Alta is smart enough to recognize when you go to sleep, it enters sleep mode automatically. You will finally be able to understand why you feel so tired in the morning as the Fitbit Alta will show you that you were restless at night, if you were indeed restless at night!
Checking your app every morning when you wake up to see how you did with your sleep is an exciting thing. The setup is easy to do as well. You will be surprised to see how accurately Fitbit Alta tracks your sleep.
You could use this information to compensate your sleep and hopefully get better rest for better health. So if you are a new mother with a cute baby, it will be pretty interesting to be able to track the sleep you don't get. Or if you work different shifts and if your sleep isn't always regular, you will love being able to check the sleep log to see how regular or irregular your sleep has been.
Fitbit Alta tracks the number of steps you take, how far you have walked, the number of minutes you exercise, and if you wear it to bed, it tracks your sleep patterns, all without you doing anything different, other than wearing the device. Fitbit Alta is very comfortable for sleeping due to its slim design. Fitbit Alta definitely helps you to maintain healthy sleep patterns.
Alerts for incoming texts or calls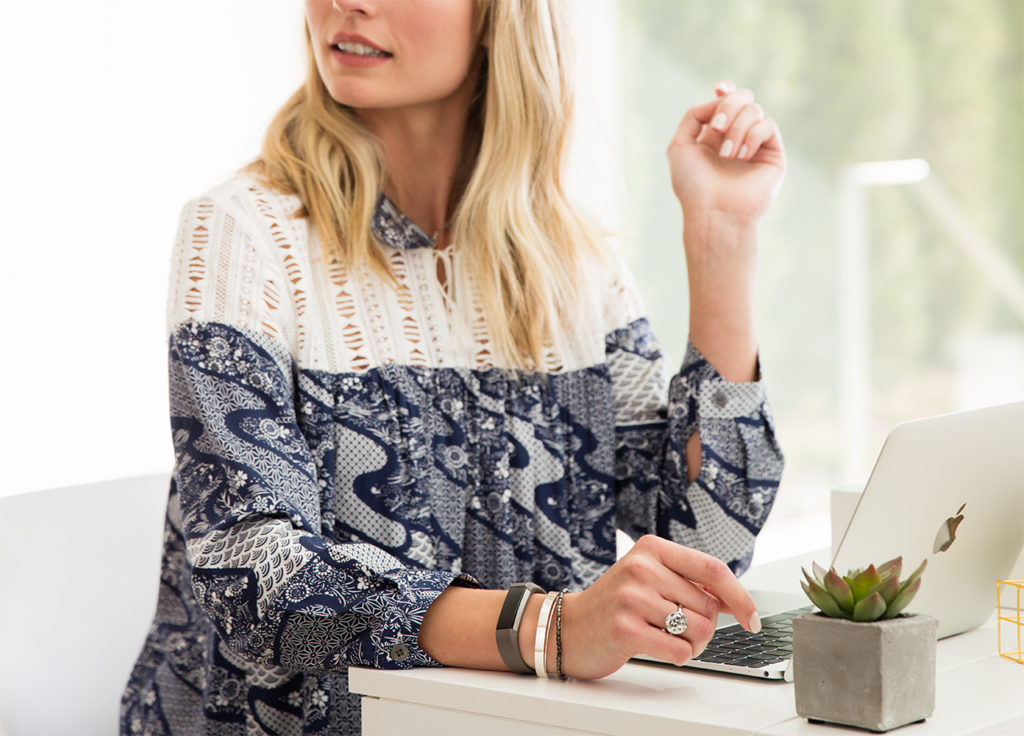 Another nice feature of Fitbit Alta is that it can alert you if there are incoming texts or calls through your phone. You will love the alert feature so you don't have to take out your phone to see who is texting you or calling you.
This comes in handy when you are busy and don't have your phone nearby or if you have the phone in your purse and you don't have to take it out to see who called or texted. Not that you always want to be connected to technology, but when you are expecting a text or phone but happen to leave your phone in the other room, this feature is extremely helpful.
Even with a sleek design, Fitbit Alta can display texts, calls, and calendar notifications on the screen. There is an option to turn on or turn off text and call notifications, which you will like. As long as your Fitbit Alta is within range of your Bluetooth device (generally around 30 feet) of either your phone, tablet, or computer, your Alta will vibrate and either show a text message symbol with the sender's name and the first part of the message or a phone call symbol with the caller's name. This feature comes in handy when you turn your phone on silent mode.
Long battery life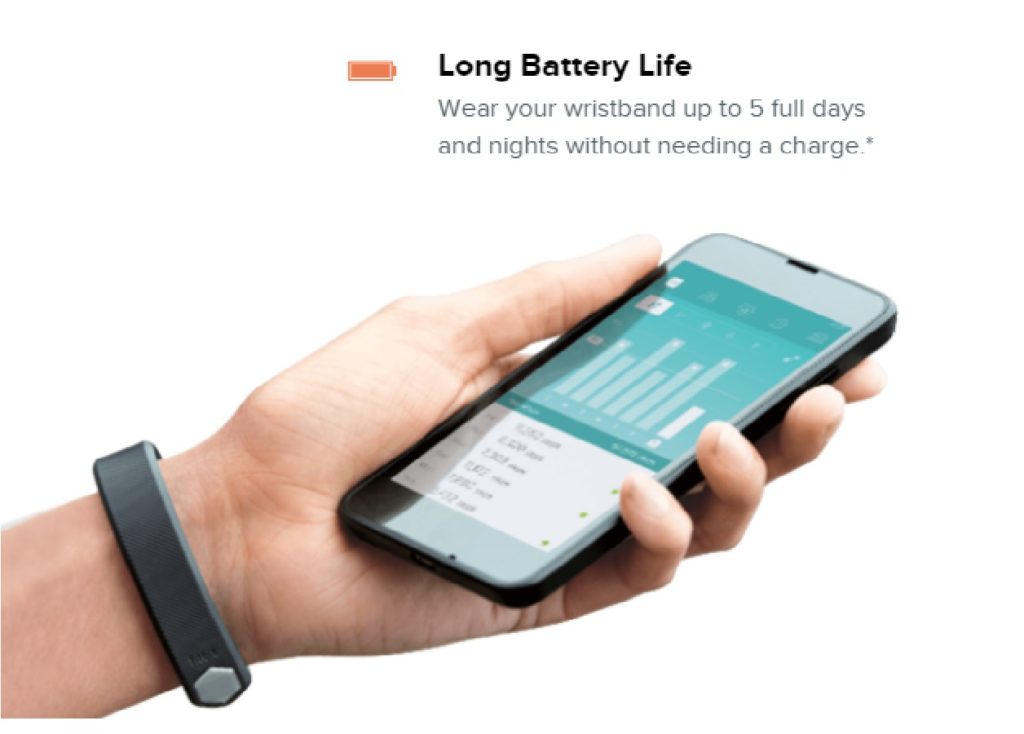 The Fitbit Alta has a long lasting battery. The battery generally lasts up to 5 days on a single charge and the battery charges very quickly. If you use it specifically for activity tracking and not to receive texts, the battery can last for more than a week.
Not having to charge your Fitbit Alta for about a week is pretty awesome. This is a huge advantage over other fitness trackers that require charging every 2-3 days. A low-battery symbol will appear when it is time to charge your Fitbit Alta.
You can charge the Fitbit Alta fully in about couple of hours. The face of the Alta will tell you if it is charging correctly and will show a picture of a battery and how far it is charged along with the charging symbol. Once it is done with charging, the charging symbol will be gone. This is another reason why Fitbit Alta is one of the best fitness trackers for women.
User friendly Fitbit app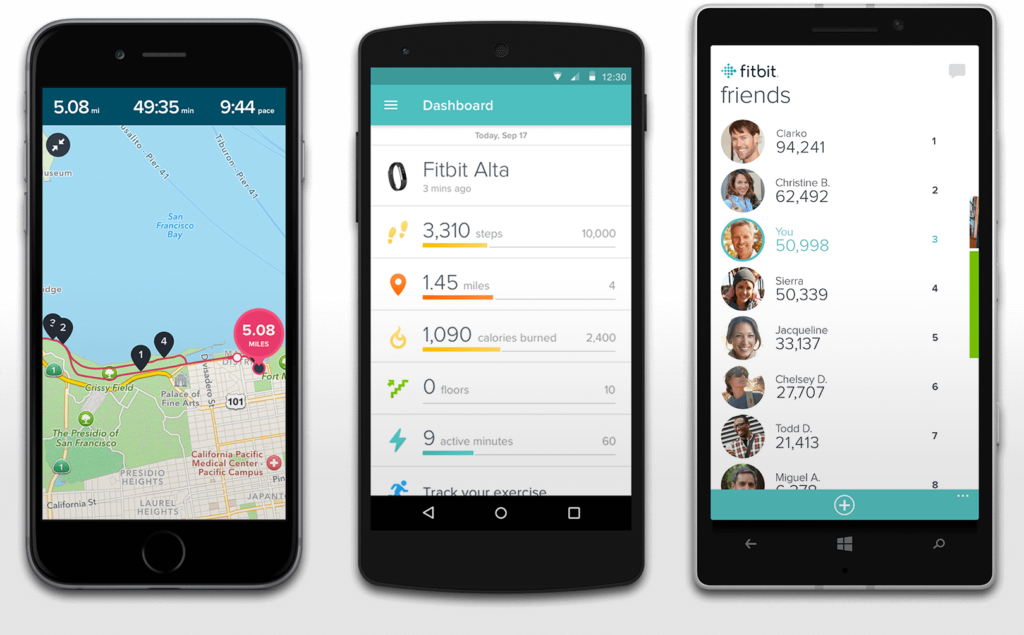 Another reason why Fitbit Alta is one of the best fitness trackers for women – its App. The Fitbit app is probably one of the best features that makes Fitbit wearables shine. It's the social aspect of the app – friendly competitions, step challenges, earning badges – make using any of the Fitbit wearables great.
The app is intuitive and easy to use. There is also food database that is pretty comprehensive where you can pretty much find any type of food on there. Join daily, weekly, weekend challenges with other fit bit buddies using the app.
For all day use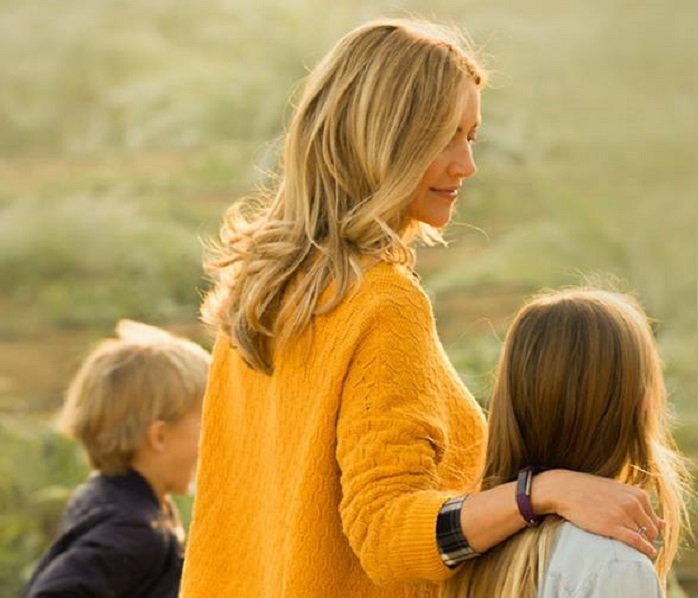 Above all, Fitbit Alta is designed for the all day use.
With all the above features, Fitbit Alta is easily one of the best fitness trackers for women! Check out our store for the different options of Fitbit Alta and the most stylish and beautiful bands, bracelets and other fitbit alta accessories.
Here is a quick introduction video on Fitbit Alta
Check out the Fitbit Alta Videos section to view some of the videos on how to use one of the best fitness trackers for women: How To Switch Accessory Bands, How To Check All-Day Activity Stats, How To Charge Your Tracker, How To Customize the Clock Face, How To Use Reminders to Move and more.
Also, check out some of the latest news about Fitbit Alta from around the world:
Fitbit Alta news from around the world:
Fitbit Alta: Fitness tracking goes super stylish (Source: Yahoo.com)
It's all in the wrist: How the Alta fitness tracker made me a Fitbit convert (Source: CNET.com)
Fitbit finally gets design with the Alta sports tracker (Source: TechCrunch.com)
Our site features some of the best and beautiful Fitbit Alta replacement band options. Please check out our store for the latest Fitbit Alta replacement bands and bracelets.
Images credit: Fitbit.com
www.highqualitylifestyle.com Copyright © 2016. All rights reserved.
www.highqualitylifestyle.com is a participant in the Amazon Associates Program, an affiliate advertising program designed to provide a means for sites to earn advertising fees by advertising and linking to Amazon.com. Amazon logo is the trademark of Amazon.com, Inc. or its affiliates. No actual payments have to be made through www.highqualitylifestyle.com website. Fitbit is the trademark of Fitbit.com. We are not affiliated to fitbit.com.